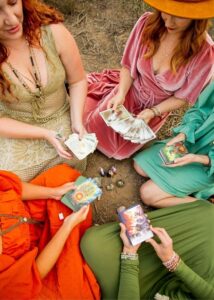 We're heading into winter this week, which means it's the time of year for rest and reflection. After we're done with all of the holiday celebrating, of course. ☺ 
I want to share some of my favorites from this year. Each of them created opportunities for reflection and resulted in shifts in my consciousness. I hope you enjoy too, if they're of interest.
Before I say more, remember to sign up for the free video series event I'm hosting to help you elevate the vibration of your goal setting and your year! Click here to register. 
First up, oracle deck…
Kuan Yin Oracle: Blessings, Guidance & Enlightenment from the Divine Feminine
by Alana Fairchild
I've used multiple decks from this author (my go to in 2020 was her Sacred Rebel deck). Our amazing nanny gave me this deck as part of my birthday gift this year. (Let's pause for a second and just note that manifestation … a nanny who gifts oracle cards and does energy healing.) I LOVE THIS DECK. It's beautiful, reassuring, uplifting, and consciousness-elevating. And of course, the messages are complimentary to the messages I share with you here. It's my go-to deck these days. 
Pull one to start your day, pull one when you want guidance, or any other time you feel called to ask for guidance. The only time I don't recommend pulling cards is when you're super emotionally charged about something. I'd recommend getting into a more neutral space emotionally first. Also, I'd recommend protecting your space and/or asking a specific guide for assistance as you pull. 
Now to books…
I read every night before bed. Literally every night. And in the middle of the night when I wake up LOL. Which means I read a ton of books every year. These two were the standouts for me. Ones that I will keep going back to over the years.

The Afterlife of Billy Finger: How My Bad-Boy Brother Proved to Me There's Life After Death
by Annie Kagan
My friend Greg recommended this book to me, and it is one of my ALL-TIME FAVORITES. (Just ask anyone in my program Driven – I shared some of the analogies shared in this book.) The messages in this book are consciousness activating. As a channel, I need a "hook" to start channeling. Lordy, I cannot tell you how many times I was up in the middle of the night after a sentence in Billy Fingers triggered a full transmission. So, you've been warned. ☺ As the title says, it's about a woman whose brother dies and comes to her in afterlife. Prior to her brother connecting with her, she wasn't someone who had connected with spirit.   
The Freedom Transmissions
by Carissa Schumacher
Last, but certainly not least, the Freedom Transmissions. My spiritual mentor published a book that is straight channeled content. I originally heard these messages in an audio transmission, and I can say without doubt that the book is a lot easier to digest. ☺ Carissa is a channel for Yeshua, which might trigger some. It did for me at first, but ultimately these channels have changed my life, and I find Yeshua to be a more relatable ascended master than others because he did come down to earth in human form at one point. The first part, the seven imbalances of the mind, could take many lifetimes for me to master but are powerful catalysts for peace and love. For those of you who are familiar with A Course in Miracles, you will find some similarities. As with everything, embrace what resonates in this book and leave what doesn't for another day.
Oh … and a podcast!…
Before I sign off, some soul sisters and I met for a retreat, and during it we recorded a podcast episode on Healing Sisterhood Wounds. But of course, we get into all the things, not just that! To listen, click here.